One Piece Tagger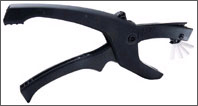 Quick and easy to use, features a smart flick-out pin which eliminates ripped ears and is easily operated and user-friendly.
* Simply squeeze the Zee Tags applicator handles together, hold and pull away.
Two Piece Tagger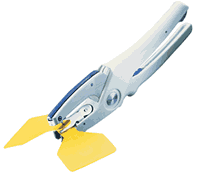 The Zee Tags two piece tagger, as well as having a smart ergonomic design, has a Reflex action that makes the top jaw spring back immediately the two tags are joined together, disengaging from both the tag and ear simultaneously. * In the event of the animal pulling away before the tagger has completely disengaged the tagger pin pivots through 90 degrees virtually eliminating the incidence of ripped ears. * This unique system has a distinct advantage for a mandatory identification tag as it means the farmer is very unlikely to be left with an animal with a ripped ear and/or a joined together tag (which cannot be re-used).